John Cloud Van Damn|Senior Correspondent
The Jhunjhunwala Times News Network
Saturday, September 4, 2010
In a shocking turn of events under highly bizarre circumstances Bollywood superstar and former fashion model Dino Morea known as the 'Robert De Niro of India' has been reported missing.
Dino whose full name is Dinanath Mohan Ravi Shankar Morea is one of Indian cinema's biggest and most popular actors having appeared in more than 78 films including such mega blockbusters like 'Baaz – A Bird In Danger', 'Fight Club – Members Only', 'Chehraa – The Face', 'Gumnaam - The Mystery', 'Bhram – The Illusion' and the highly controversial Acid Factory which was banned in many states across India due to its highly volatile and acidic content.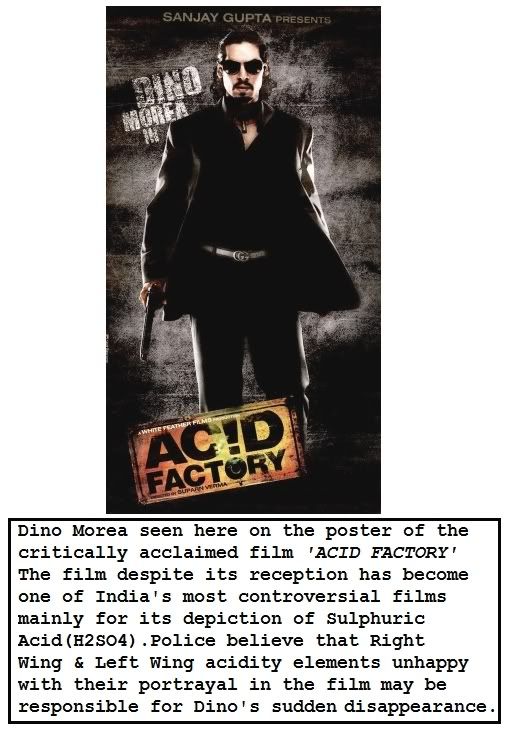 A preliminary FIR filed at the Colaba Police Station indicates that Dino Morea has not been seen for a very long time leading law enforcement agencies to believe that the cine star may have been abducted and more so become a victim of serious criminal activities.
Sources within the Police say that Dino's colossal stardom had earned him many enemies within the Indian Film Industry which may have prompted some to be involved in his alleged disappearance.
Mr. Ramchin Tamang, President of the All India Dino Morea Fan Club And Well Wishers Association ©™ headquartered in Manipur speaking to the press said "This is a national outrage and it is all the government's fault. Morea Sir has always given his best to India whether in terms of acting or otherwise. Despite repeated threats the government refused to provide Dino Sir with security which is the reason why he has completely gone missing today! If God forbid something happens to our beloved Morea Sir then on behalf of his fans in Manipur we can promise you that we will resort to a non-stop Manipur blockade"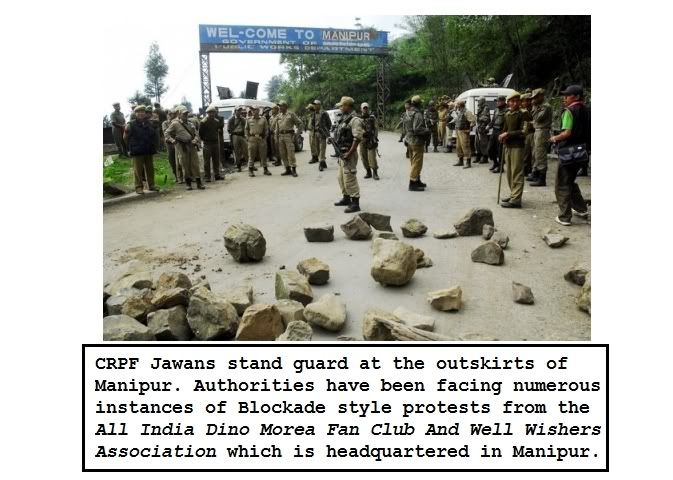 Support for Dino has also come in from many of his colleagues within the film industry .The Associated Guild Of Super Successful Extremely Talented Genius Actors Within The Indian Film Industry (TAGOSSETGAWTIFI) comprised of big star actors such as Fardeen Khan, Harman Baweja,Tusshar Kapoor, Koena Mitra, Zayed Khan, Esha Deol,Ashmit Patel,Randeep Hooda,Dia Mirza, Mohit Ahalawat, Himesh Reshammiya and Uday Chopra to name a few issued a press statement today stating "Dino is and will always be a valued member of TAGOSSETGAWTIFI .We will spare no effort to find Dino and bring him back to the big screen so he can entertain us the same way he has over the years. Dino, we love you"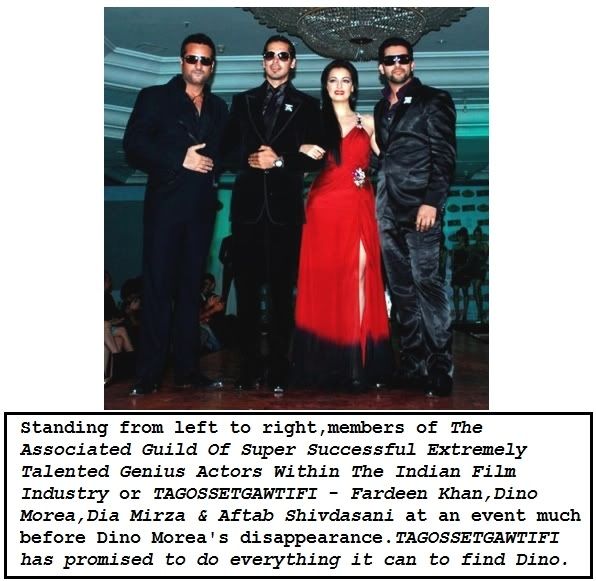 Dino was scheduled to star in Rakesh Roshan's next film, the highly anticipated sequel to Kites, 'Kites 2 – Return Of Kites' along with Mexican actress Barbara Mori who had appeared earlier in Kites Part One as well. Industry watchers are already describing the dynamic pairing of Morea and Mori as doing MORE and MORE to further the idea of the visionary Kites franchise.
Asked if Dino Morea's disappearance has anything to do with parties that did not want Morea to land another hit via Kites 2 and hence have a hand in his disappearance, Inspector Tukaram Bhatavdekar of the Mumbai Police said "See, if the Dino Morea want to do the film with the Barbara Mori about the Kites then we will definitely help to do the finding of the Dino Morea but I am warning Morea to do film only. If the Dino Morea instead of film want to do the baby with the Barbara Mori then it is better he stays disappeared. Population of India already have too many baby and after the Justin Barber's baby if Morea and Mori also make more and more baby then I will personally arrest them both. I don't like people who make more baby or Morea baby"
Adding a bit of perspective to the situation, Social Scientist, Economist, Ballet Dancer and India's Resident Male Pattern Baldness Expert Paranjoy Guha Thakurta says "Dino Morea is perhaps one of India's greatest actors and it is for this reason that he has earned the very well deserved recognition of being India's Robert De Niro. You see, Mr.Morea is a unique individual who is able to bridge the cinematic divide across India in being able to appeal to both the rural audience and the urban audience by portraying a wide variety of characters through his fantastic acting talent which is why he is India's most phenomenal actor."
Apart from TAGOSSETGAWTIFI, younger actors and newcomers within the industry are campaigning for a CBI probe into the disappearance of Dino. Commenting on the situation young actress Hansika Motwani last seen in Himesh Reshammiya's epic film 'Aap Ka Surroor(rrr)' says "I was looking forward to working with Dino ji in the future and by God's grace I hope it will come true. I have always been a big fan of Dinoji and right now pray that he is found soon .My friends and I have set up an online petition that everyone can sign to show their support and put pressure on the CBI to probe Dinoji's sudden disappearance". Further commenting on the issue she said "We are also going to start candle light vigils across India to show Dinoji that we love him wherever he is."
Meanwhile the Indian Institute of Paleontology (IIP) which studies Dinosaurs has also decided to come forward with a show of support towards finding Morea by naming their newest Dinosaur fossil discovered in the Thar Desert after Dino Morea. The fossils which were discovered last month indicate a new species of Dinosaur. The IIP has decided to name this species of Dino as 'Dino Morea' in what can only be described as a really wonderful case of life imitating art!

The government is contemplating a national and international search for Dino Morea especially after it faced a lot of criticism from the opposition over how it has handled the issue so far. It does not want to face flak over the handling of the issue from the people also which is growing day by day. The government has also instructed the Indian Air Force to search aerially for Dino Morea.
In particular a huge special squadron will be searching for Morea. The squadron is being led by one Group Captain Sachin Tendulkar.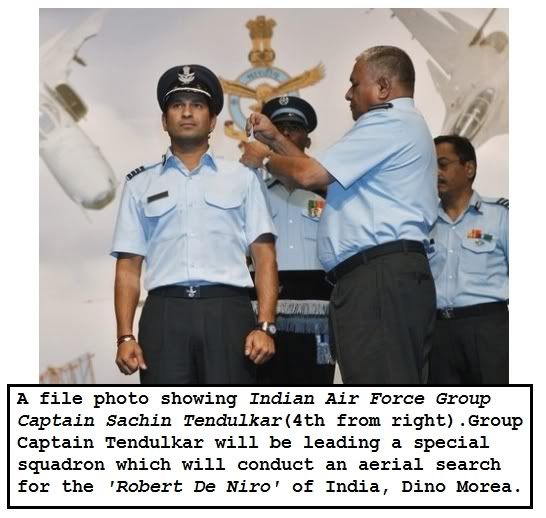 We sure hope that Dino is indeed found soon.
[Photos and Reports from various sources and agencies]