Stee One Seagull
Jhunjhunwala News Network
27th June 2011
Following in the footsteps of popular suer Arindam Chaudhuri who sued Google last week, five star rated international multinational globally local Homeshopping company Telebrands© has decided to sue competitor Telemall© for selling what it alleges to be "Direct and Blatant Copying" of Telebrands' Nazar Raksha Kawach.
Telebrands which filed the case earlier today in the Ghaziabad District Civil Court has accused Telemall on multiple charges of Copyright Infringement, Trademark Violation, Plagiarism, Wrongful Licensing and Concept Violation in selling the Nazar Kawach. The Kawach is sold by Telemall through its wholly owned subsidiary Shraddha Sky Shop™.
The Nazar Kawach which was voted as 'Product of the Year' at the recently concluded World Homeshopping Expo in Las Vegas has been a source of controversy ever since it was introduced first by Telebrands in September last year and by Telemall barely a week later.
Both companies have since claimed that they invented the Kawach which is used primarily as an evil-eye repellant or as the product name suggests, protects the wearer from 'Boori Nazar'.
In the case filing, Telebrands have indicated that Telemall have copied the Telebrands 'Nazar RAKSHA Kawach' and are selling an identical product as 'Nazar SURAKSHA Kawach'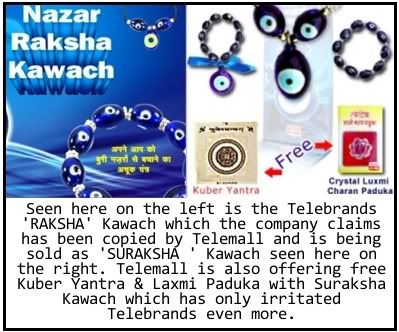 Speaking for Telebrands, its Chief Legal Officer Mr.Mukund Rajvanshi said "It's ridiculous that Telemall have copied our Nazar Raksha Kawach and are selling it so shamelessly. We invented the Raksha Kawach because of which many people have benefitted. Take the case of Rohit from Haryana, he earlier had no hands, no job, no money, no wife and looked like a disfigured constipated Pig but after he used Telebrands Nazar Raksha Kawach his life changed! Now he looks like Brad Pitt, has a steady job and lots of cash. Oh! Nazar Raksha Kawach also helped him grow his hands back. Now whenever he feels like scratching he can do it easily because he has hands."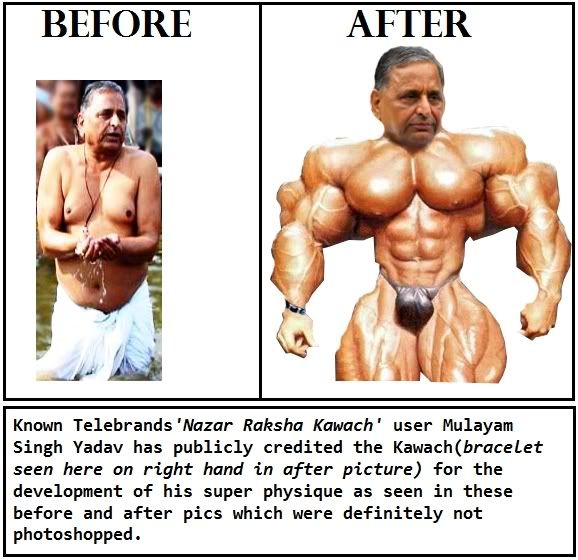 Responding to the allegations, Telemall CEO Ms.Mayawati Swaraj said "ALL ALLEGATIONS ARE BASELESS AND POLITICALLY MOTIVATED. It's ridiculous that Telebrands are suing us. We should be the ones suing them because the Nazar Kawach is our idea! We filed the patent for it first but because they have more resources they developed it first. In any case our Nazar Kawach is definitely better than theirs because our Kawach uses GOOD VIBRATION SYSTEM which is more effective than their MAGNETIC PROTECTION POWER"
"Our Kawach which is called Nazar Suraksha Kawach provides SURAKSHA but their Nazar Raksha Kawach provides only RAKSHA. Now you tell me which is better Raksha or Suraksha? They are just scared of customers buying our product over theirs because ours is better"
The media may have termed this as 'The Battle of the Kawachs' but another battle may be brewing on political lines. While the Congress Party has been a longtime supporter of Telebrands, the BJP has been an equally staunch supporter of Telemall. As one political commentator described it "This could well turn out to be a pitched battle leading to votebank politics as it will be projected as a battle between a Secular Kawach and a Communal Kawach"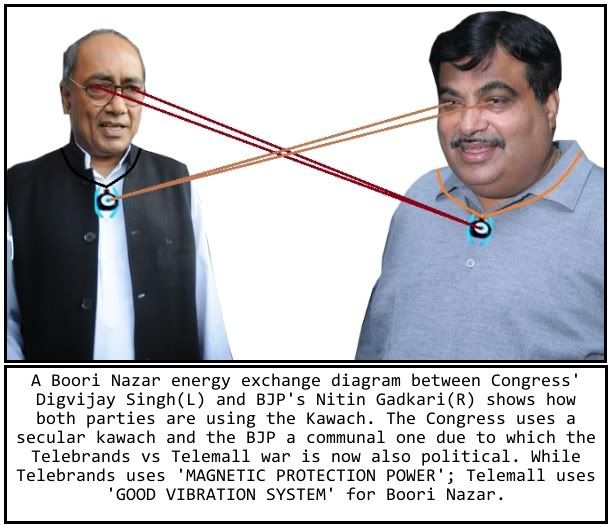 Will the real Nazar Kawach please stand up?