The thing about GREATNESS is that it gives people who possess it the chance to perform action and not justify it.
Now I'm a Great Man. The Greatest Investor in the World, The Greatest Investor
in the History of 160+ Years Of The Indian Stock Markets.
With my greatness it's a case of me empowering greatness which in turn enables me to do things that are legendary and impossible to be performed by others.
Its like this :
GREATNESS + GREATNESS = GREAT GREATNESS
I don't need a reason. In other words I inspired Nike to model their catchphrase of 'Just Do It' and my greatness goes well with Nike since I am also an accomplished athlete with a fit body, a robust masculine physique used to excel in the toughest of sports like beer drinking and competitive eating.
Let me explain:
The nature of my greatness is so that I just decide whom to like and whom to dislike.
I don't need a reason to dislike someone. I just decide to dislike them hence deeming them :
"DISLIKED"

It's a special status to be disliked by me because I have chosen a few people among billions on this planet to be not liked and/or hated by me. People feel elated to be disliked by me, it's an achievement unparalleled to anything our society has to offer because after all it is me bearing my greatness which dislikes the one I have chosen to dislike.
To be disliked by Rakesh Jhunjhunwala is akin to receiving the Nobel Prize. In fact it is greater.
Now I see stock pickers operating all the time in trading houses, advising clients i.e. losing the client's money in the markets. I see them on TV running their mouths off "Buy X Stock At Y Price And Reap Z Profit". Do this, do that and other blah blah and more blah .Writing in finance magazines like "So And So Stock Is The Next Big Thing, Buy It Now".
Some of those people have attained the honor of being disliked by me .I'll put down all their names on a list and let the world know of that elite slice of humanity which has been distinguished in the cosmos for I have bequeathed the title of "DISLIKED BY RAKESH JHUNJHUNWALA" upon them.
And since I'm in such a good mood, though I don't have to or need to I will even go ahead and invent reasons to dislike these stock pickers.
Oh! Glorious day! Here come 6 of them who have been fortunate enough to be disliked:
1.] S.P Tulsian: I see this fellow everyday on CNBC. I think he infact lives in the CNBC TV18 studio. He has a small room in the studio where he sleeps and eats. Every morning he gets up, has a bath, eats his breakfast and is ready to provide the world with his 'expert analysis' and 'unique insights' promptly when the markets open at 9.
All of SP TULSIAN'S wisdom can be collectively summarized in the following 8 words:
"Buy Reliance Because Reliance Is A Good Company"
If the markets are down then "Buy Reliance Because Reliance Is A Good Company"
If the markets are up and booming "Buy Reliance Because Reliance Is A Good Company"
If Priyanka Chopra has a wardrobe malfunction "Buy Reliance Because Reliance Is A Good Company"
If P.Chidambaram has swine flu "Buy Reliance Because Reliance Is A Good Company"
If Dhoni gets a haircut "Buy Reliance Because Reliance Is A Good Company"
If the Prime Minister decides to endorse Aquafina Drinking Water "Buy Reliance Because Reliance Is A Good Company"
The SP Tulsian universal solution to all of mankind's problems is to "Buy Reliance Because Reliance Is A Good Company"
I DISLIKE SP TULSIAN BECAUSE HE RELIES TOO MUCH ON RELIANCE
2.] Ashwani Gujral : For years Ashwani has also appeared on TV. Some say that the existence of his legs are a myth, for no man has seen them and lived to tell the tale.
To catch a sighting of Ashwani's legs requires one to peer behind that giant structure of wood that Ashwani uses to block his hairy legs from full public view. In common parlance this block of wood is called a table.
Ashwani is also glued with Fevicol to his chair. A smelly stinky chair which is said to be the source of Ashwani's stupidity.
The chair is the reason Ashwani dresses like a pseudo fashion icon & a 'D' grade low budget film star with shiny shirts and even shinier scarves.
The chair provides Ashwani with immense crappy stock picks all of which are impossible to be executed without the patented 'Ashwani Gujral Stop Loss Method Of Stock Picking'.
As far as I'm concerned, hey, I don't need to bother myself with watching Ashwani's legs….yuck! I'd rather gaze upon Bipasha Basu's legs…. in small tights...right.
I DISLIKE ASHWANI GUJRAL BECAUSE I DON'T LIKE THE COLOR OF HIS CHAIR AND MORE SO BECAUSE HE IS NOT BIPASHA BASU.
I
3.] Surjit Bhalla: Throughout the history of human civilization humans no matter which country, civilization, race, gender, caste or creed they've belonged to have had one distinguishing feature:
All Human Beings Have Heads.
That's right. Human beings worldwide have heads.
Surjit Bhalla from NDTV Profit is a human being and Surjit Bhalla also has a head.
Surjit Bhalla hosts a show called 'TOUGH TALK' on NDTV Profit. Take a look at this clip which shows the TOUGH Surjit Bhalla talking about TOUGH things which need TOUGH TALKING. When He TALKS TOUGH about the great depression on TOUGH TALK, He puts people in a Great Depression. Now that's TOUGH!
Well if Surjit Bhalla wants to be seen as a TOUGH TALKER,He only has to ask me! I can make his desire of TOUGH TALKING come true.
As a favor to Surjit Bhalla I had a few people make this video of him. Now this is his badass opening of his TOUGH TALK show which has been merged with World Wrestling Entertainment(WWE) Chairman Vince McMahon's theme song – 'No Chance In Hell'
When Surjit Bhalla '
TALKS TOUGH'
,no one has a chance in hell to
TALK
as
TOUGH
as him :
Now why would I dislike TOUGH TALKING Surjit Bhalla from NDTV Profit who has a head?
Is it :–
a.) Because Surjit Bhalla has a ridiculously ugly goatee which looks like a dehydrated donkey's carcass suffering from a severe fungal infection?
b.) Is it because he works in an investment company and delivers bad stock picks to his customers hence leaving them broke and penniless?
c.) Is it because Surjit Bhalla is planning a career as a Tough Talking Judge on Indian Idol?
d.) Or is it all of the above
The answer is neither. It is infact secret option e which is as follows:
e.) IT'S BECAUSE HE HAS A GIANT HEAD
Look at the following hi tech diagrams which explain Surjit Bhalla's GIANT HEAD: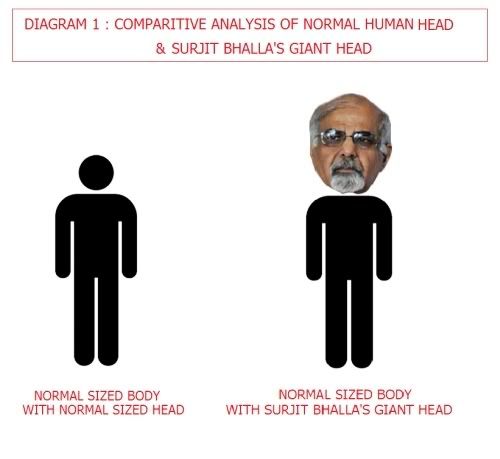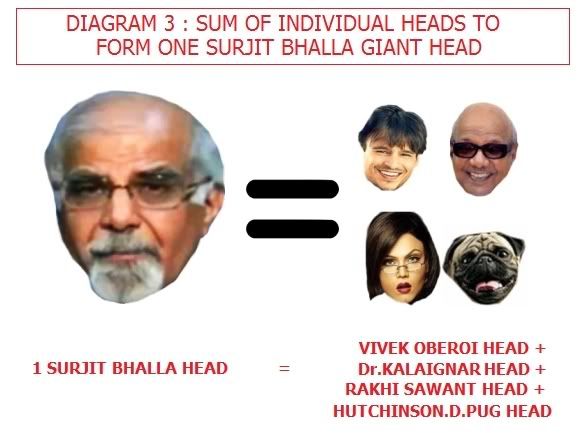 I DISLIKE SURJIT BHALLA BECAUSE HE HAS A GIANT HEAD.
4.] Uday Chopra: Now I know what you're thinking -- Uday Chopra isn't a stock picker so why is he on this list?
Well GOD DAMMIT! This is my list and I'll put who so ever's name I want on this list. If you got a problem with it then you can piss off bitches!
Moreover Uday Chopra has received free publicity by the very act of my divine self mentioning his name on my Secret Journal .I mean more people will see Uday Chopra on my blog than all those combined numbers worldwide who might have walked unknowingly into a theatre providing free passes to a screening of 'Pyaar Impossible'.
He looks like the mummified corpse of a frozen rat uncovered after millions of years of being stored under an insecticide factory which leaked cockroach killing spray onto his monkey dead brain.
I DISLIKE UDAY CHOPRA BECAUSE WELL…..HE'S UDAY CHOPRA. NUFF SAID.
5.]Deven Choksey:I actually like Deven Choksey despite his retarded hair style – a drooping bowl cut cropped mushroom style hence earning Choksey the nickname of 'MUSHROOM HEAD'.
But I don't dislike Deven only because he's a MUSHROOM HEAD.
I despise him because he's prejudiced. He's prejudiced against PIZZA.
In Other Words He's a Pizza Hater.
A few months ago a company called Jubiliant Foodworks which runs the pizza chain Domino's Pizza in India released its IPO.Now what did the Mushroom Head Deven Choksey do? He went around town telling people not to buy into this IPO.
See I don't mind the fact that Mushroom Head told people not to buy Jubilant Foodworks.
But it becomes personal to me when you start attacking Pizza. Nobody and I mean Nobody attacks Pizza and gets away with it.
I know Deven Choksey is a Gujarati. I know that he loves Gujarati Undiyo. But why must he vehemently attack pizza? Lovely soft pizza with stringy cheese and wonderful toppings.
I'm an undiyo lover too but I also love pizza. Why can't we as a nation live in a country and embrace both undiyo and pizza. How about a pizza with undiyo topping? That would be awesome!!!
Think about it - my epic dream, a vision for all Indians. A country free of hate and fighting brought together by the love of pizza and undiyo. A nation united in what it eats and enjoys.
But Deven Choksey and his mushroom head are a threat to national integration via the love of pizza.
I won't tolerate any nonsense from anyone who says anything bad about pizza.
I dislike Deven Choksey because he said bad things about PIZZA and because he has a Mushroom Head Haircut.
6 .] Shankar Sharma :
The entire point of this exercise in list making has led upto this point. I already said that I don't need a reason to dislike someone. I not only dislike Shankar Sharma, I hate him! Which means that even if I had a reason I would not need to validate it.
It's like this. If I'm Batman then Shankar Sharma is The Joker. I am the only force that can stop the madness he unleashes with his bear cartel upon the markets. In return he keeps me occupied when I'm bored .
I am the truth to his lie. The BULL to his Bear.
This brings me back to what I said some lines back "The entire point of this exercise in list making has led upto this point"
Greatness needs no logic.What I say becomes logic.I made this list and put 5 other names on it just so that I could dislike & hate Shankar Sharma in the end.
------------------------------------------------------------------------------------------

I Love Myself !