Now for the past few days People've been asking where I've been.


I've been busy.
See, I'm about to turn 50 soon and I always feel good about myself. This year I might even walk right into the Mumbai Airport, Stop by the hangar and buy an obscenely expensive Boeing 747 or an Airbus A380 or both and then fly out all my friends and family pals to Mauritius.
I possess the ability to convert the Mumbai Airport into my own personal plane showroom.
I might then set Mauritius on fire. Party like a rockstar. Buy the entire island itself and install my statue on the isle of Mauritius.
Like Jim Jones says. I always ' Fly High,No Lie,I Just Keep On Ballin'
So here I am a few days ago in my Nariman Point Office. Minding my own business, counting my 1000 Rupee notes and organizing my collection of Ganesha Statues. Polishing God Ganesha's tummy and making a note in my head that we both are so alike.
Then my phone rings, it's the security man from downstairs saying this dude from NDTV called Sreenivasan Jain wants to meet me.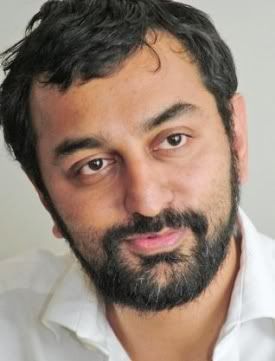 I don't want to meet this Sreenivasan fellow but the Security Guy says that Jain has been camped at my gate since last night and is threatening to kill himself if I don't meet him.
Then the New Mumbai Police Commissioner calls me up followed by the Chief Minister Ashok Chavan and then the Prime Minister himself Dr. Manmohan Singh .All requesting me to meet Sreenivasan Jain because if he were to actually kill himself this would become a law and order problem. Journalists would bad mouth the police for failing to prevent the death of Sreenivasan. The opposition would ask for Chavan's resignation and the PM would be in trouble.
So all three of them begged me to meet Jain and even promised me that they would treat me to ICE CREAM as a token of thanks.
Now I put things into perspective. Sreenivasan Jain is whatever, but Ice Cream is damn important.
I decided to meet this Jain guy for a few minutes. The PM told me he'd buy me an Extra Extra Large Cone With Chocolate,Vanilla and Butterscotch topped with Chocolate Chips. This was something I could not refuse! It's ice cream after all!! Maybe I can eat it when Rekha isn't around otherwise she's gonna yell at me for violating the rules she's set as regards my Diabetes problem.
So Sreenivasan Jain came up to my office and fell at my feet begging me to grant him an interview. With Ice Cream in mind, I obliged .Then I instructed him to sit down and do the interview.
Now I don't understand what this fellow's problem is. Whether he's got a stick up his ass or he's just too damn screwed up in the brain. Apparently, he thinks he's damn cool because he tried annoying me all interview long.
Just look at the footage.
FIRST OF ALL I don't appreciate a square jawed yokel who so badly needs a shave that his ass ought to be hauled into the Gillette Shave India Movement. His body clamped down with shackles and then have his face lathered and razored till that ugly mess of a hairy dog's butt pasted on his face he calls a beard comes right off.
Sreenivasan Jain could never pull off a moustache so he tried a beard and messed that up. If he wanted to try a moustache he should have tried one like this guy, whose moustache is the best moustache in the world…..right.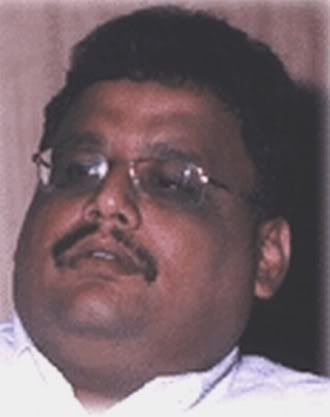 SECONDLY, I don't need to tell this fellow or anyone else why I haven't been on TV. I do what I want, when I want, how I want. There are enough Half Jokers and Whole Monkeys who know squat about the markets yapping their tongues off on business channels on a daily basis.
I'm not one of them. I'm The World's 937th Richest Man. When I pull out all my cash, my jewelery,my cars, my yachts, my planes, my oil fields, my satellites, my private diamond mines and other stuff. You'd know that I am the richest man on the planet.
THIRDLY, do your research properly shithead. It was FORBES magazine that made a partial estimation of my net worth and not FORTUNE magazine.
Moreover the Ambanis and I have a unique understanding which is top secret.I wouldn't reveal that to you of all people.

FOURTHLY, ever since The Notorious Colton stole my portfolio and put it online, people have gotten to know a tiny fraction of the company names I've invested in. So if Sreenivasan Jain picks out Titan and Crisil and talks as if he knows everything about these companies then he's a certified butt munch.
Let me explain something to you Sreenivasan, Crisil and Titan weren't as successful earlier. I made them successful when I made the decision to invest in them. You get it?
It's called Genius. There are thousands of companies listed on the Bombay Stock Exchange. My Greatness picks out a few of these companies which I then destine to become money spinners .
LASTLY, DO NOT EVER, I MEAN EVER. Never ever talk to me and even try to do something else at the same time. You think you're so cool playing with your phone while talking to me ; LET ME WARN YOU – If you ever pull a stunt like that on me again I will bounce your skinny little frame right on my stomach and launch you into outer space where you would disappear into cosmic dust forever.
You tried to 1 up me but I punked you out instead. See after 6:55 minutes of this interview I regurgitated some of the food I ate earlier into a massive food ball of gas which I then filtered through my mouth, moving it upward into a gigantic burp.
This time you got away with a burp. Next time, you do an interview with MY GREATNESS so callously; the consequences will be entirely different.
Sreenivasan Jain. You have been warned.
Rakesh Jhunjhunwala - Kickin' Ass, Makin' Cash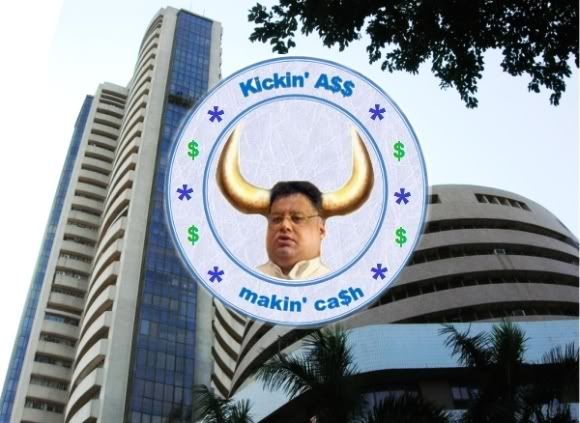 Don't Annoy Me. My Horns Will Inflict Severe Damage. I'm A Renegade Ass Kicker.
Samjha Kya EDEY?
Rakesh Bhai Se Panga Nahin Lene Ka.