Unless you've been living under a rock (Starfish actually live under rocks, ask Patrick from Spong
ebob Squarepants) you've heard that Shankar Sharma has been banned from trading in the Indian Markets for 1 whole year.
I've already said that I'm not entirely satisfied if anyone else apart from me has to ban Shankar. I'm not overly thrilled because ever since Lalu Yadav created the Remote Control System with Rabri Devi ,men folk have found a way to run things using women folk.
Now, Shankar will remote control and pull strings while his wife Devina aka CRAZY KUNG FU HAIR LADY runs First Global.
Let Me Explain With Pictorial Equations:
Equation 1:

Equation 2:

Pondering the above while watching an IPL match I was approached by an ordinary Indian Cricket lover. You know him, the ever loving lover of the CAT exam IIM Kapoor himself.
In true 24 style, This Conversation Takes Place Between 7pm And 8pm:
------------------------------------------------------------------------------------------------------------

"Kapoor : Rakesh Sir!!!! I am here for I need help. Help, severe help; I am at the edge of my senses. Tottering at the last hold of sanity. One more step and I will go completely mad, insane, become a lunatic, confined to the depravating shackles of madness, losing my mind forever…..
Me: Eh! Bloody Don't Do Drama!!! How Dare You Disturb Me? I was pondering and watching an IPL match. Can't you see my favorite cheerleaders are dancing? WAAH! WAAH! How wonderfully they're shaking their…..um……Pom Poms.
Kapoor: Pom Poms!
Me: Yes Pom Poms.
Kapoor: Yes Sir, Definitely, What Wonderful Shakeage of ……..The Pom Poms!!!!
Me: Eh! Dirty fellow, Pom Poms is the technical name used for those things they hold in their hands while they dance.
Kapoor: Ah! Yes Sir. You are great Sir. What an eye for detail you have!! You notice even the smallest Pom Poms. Even I like Pom Poms. They're so nice and fluffy and shiny……
Me:Hmmm, enough chit chat. Describe the nature of your visit so I may finish this discussion and get back to researching more Pom Poms.
Kapoor: Thank You Sir!
I am indebted to you Sir. Your kindness knows no bounds Sir.
Sir the thing is ……
Me: WTF! YOU WANT TO KNOW WHAT A THING IS!!!!!
Kapoor: No Sir!!! No Sir!!! No Sir!!!! I know what a 'Thing' is but I'm talking about another thing.
The thing matter is that I have been driven to the point of suicide. Because I face emotional distress and don't know what to do about it. I can find no recourse apart from facing the sweet release of death for certain circumstances and very bad people have driven me to the point of despair.
Me: What? Wife/Girlfriend Lafda? Work Pressure? Gangsters Harassing You? Loan Repayment? Are You Scared Of Terrorists Bombing Your Ass? Did The Naxals Blow Up Your Favorite Train? Or Do You Have A Health Problem And Need A Good Doctor? What Is It?
Kapoor: A PROBLEM MUCH WORSE THAN ALL OF THIS, SIR. THE WORST FORM OF PUNISHMENT THAT CAN BE ADMINISTERED TO ANY LIVING CREATURE ON GOD'S GREEN EARTH.
THE INCESSANT AND MERCILESS BARRAGE OF ADVERTISEMENTS DURING IPL MATCHES THAT HAVE ROBBED ME OF THE PLEASURE OF WATCHING THE SPORT OF CRICKET WHICH I LOVE WITH ALL MY HEART.
IT'S A MAZE OF ADS, ADS AND MORE ADS THAT MY DELICATE MIND HAS BEEN TRAPPED IN. I WOULD CONSIDER MYSELF LUCKY IF I SURVIVED EVEN ONE DAY AFTER THE IPL FINAL ON APRIL 25.
I'M SCARED FOR MY LIFE SIRJI!!!! I CAN'T THINK ANYMORE. IT'S THE BLOODY ADS. ADS BEFORE THE MATCH, DURING THE MATCH, AFTER THE MATCH, ABOVE THE MATCH, BELOW THE MATCH, INSIDE THE MATCH, OUTSIDE THE MATCH, AROUND THE MATCH, THROUGH THE MATCH……..
SO MANY ADS MAKE ME FEEL LIKE RIPPING MY HEAD AWAY FROM MY OWN BODY AND PLAY FOOTBALL WITH MY SKULL.
PLEASE SIR, HELP ME, I CAN'T STAND THE TORTURE ANYMORE. PLEASE SIR, I BEG OF YOU SIR. ONLY YOU CAN DO SOMETHING ABOUT THIS. PLEASE, THE ADS ARE KILLING ME!!!SOB, SOB!
Me: Whoa! You really are worked up. Don't cry. I'll summon Lalit Modi right now and do something ….
Kapoor: Thank you Sir, God Bless you!!!!
Will you call him Sir? Please use my phone.
Me: Bloody Fool! ****I don't call Lalit Modi. I summon him using this big red button on this shiny device, see!
Kapoor: How Sir? What technology is this that summons Lalit Modi at the push of a single button?
Me: Lalit Modi is Sharad Pawar's Monkey Boy. As a little Monkey Boy, the Hon-Her-Able Pawar uses Modi to entertain his rich and powerful guests.
Only a select group of people are given this button, pressing it magically teleports Lalit Modi from whatever he's doing at the moment to right in front of the one who pressed the button.
THEN LALIT MODI DOES A LITTLE MONKEY DANCE, HOVERING AROUND AND SCRATCHING HIS ARMPITS LIKE A GOOD LITTLE MONKEY BOY.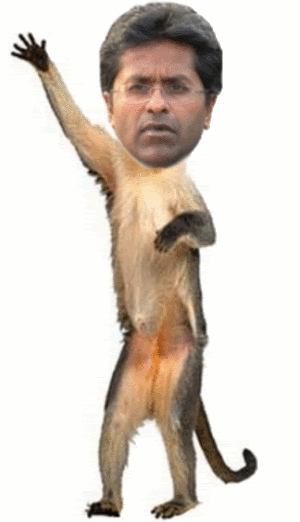 And I am one of the few who has the power to make Lalit Modi dance like the little Monkey Boy that he is since Sharad Pawar is a friend of mine.
Let me press the button and summon Lalit monkey errr Modi.
[Button is pressed, Lalit Modi appears]
Modi: Hello Sir Mr. Jhunjhunwala? What can I do for you today?
Me: Dance Monkey Boy, Dance!!!
Modi: Ook, Ook, Yeah! Monkey yeah! I am the Monkey Boy! Ook Ook!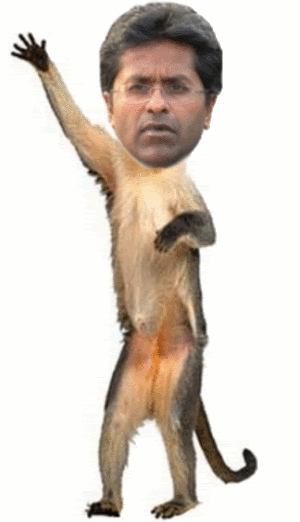 Kapoor: Sir, my ad problem…..
Me: Yeah, Yeah ….I haven't forgotten. Let him finish the Monkey Boy dance then I'll talk to him.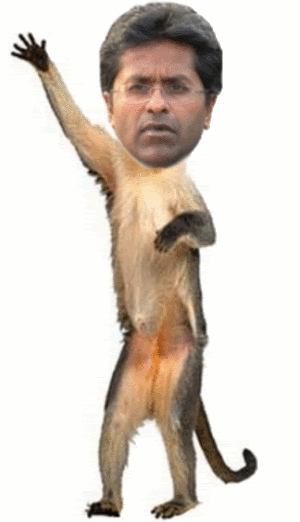 Modi: Phew! Good dance! Ook Ook! Shall I dance another round?
Me: Not now. Tell me why there are so many ads in the IPL?
Modi: So many!!! Sir you have been misled. There are too few!!!
Kapoor: Screw you bastard, there are ads almost every 2-3 balls!!!
Modi: I know, I'm sorry! We're working on it but I assure you that from next year there will be ads pretty much every single ball.
I am disappointed and take full moral responsibility that the IPL has failed to insert ads in between balls and most importantly during balls.
Kapoor: What did you just say? Hey! Are you eating something, how dare you, we're having a serious conversation here.
Modi: I'm eating a Nestle Munch Chocolate Bar because Nestle Munch now has 30% extra free! And since Nestle Munch is one of the sponsors of the IPL it is my duty to broadcast the greatness of Nestle Munch Chocolate Bar with 30% extra free, even when there is no match going on.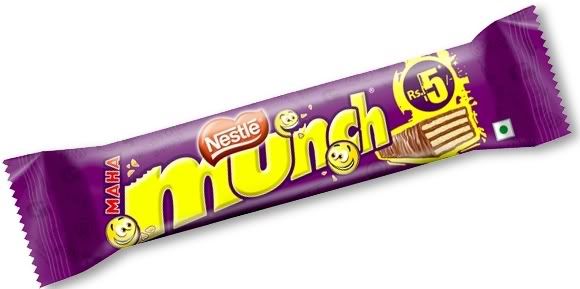 Shastri: You know Lalit…..I just get the feeling…..
Me: Eh! Ravi Shastri?! What the hell are you doing here?
Shastri: Sir, I'm here to provide commentary and I brought ANGAD BEDI also.
Modi: Holy Shit!!!! You didn't just say Angad Bedi did you?!!!!

THE ANGAD BEDI!!!
THE ANGAD BEDI: Indeed!!!! Hello Everybody! I PUT THE Exxxtra in Exxxtra Innings !!!!
Modi: OMG,OMG,WHAT THE HELL!!! HOLY FU*K!!! THE ANGAD BEDI, I AM SUCH A BIG FAN OF YOURS. I ABSOLUTELY LOVE THE WAY YOU HOLD THE MIC!!

THE ANGAD BEDI: I'm THE ANGAD BEDI. I can hold the mic in both hands !!! As if Mandira Bedi can do something like that. If you have to choose a Bedi, forget that 2 bit skank whore riding on noodle straps called Mandira Bedi.
Pick a 3 Bit Rag Tag Toothpick Stick Insect instead called ANGAD BEDI.
THE ANGAD BEDI!!!
Shastri: Wow dude….you know I just get the feeling…..
Me: Screw your feelings man. Answer me Lalit Modi .When are you going to reduce the ads?
Modi: Pardon me Sir, reduce what now?
Kapoor: The ads in the IPL.
Modi: I don't know what you're talking about.
Kapoor: WTF, Double WTF!! The ads dude in the IPL. All those ads, Zoozoos, Munch, Blackberry, etc. What about all of them?
Modi: Oh Yeah.I know the ads but I don't know anything about this thing you call the IPL.
Kapoor: What are you talking about dude? Have you gone nuts or do you have an Aamir Khan 15 Minute Ghajini Memory Problem? The IPL, the Cricket League of which You Are the Commissioner.
Modi: You are mistaken .I have never heard of the IPL. I am the Commissioner of a Cricket League called the DLF IPL .It's the DLF Indian Premier League, not just the IPL so please pronounce it as the DLF IPL not the IPL.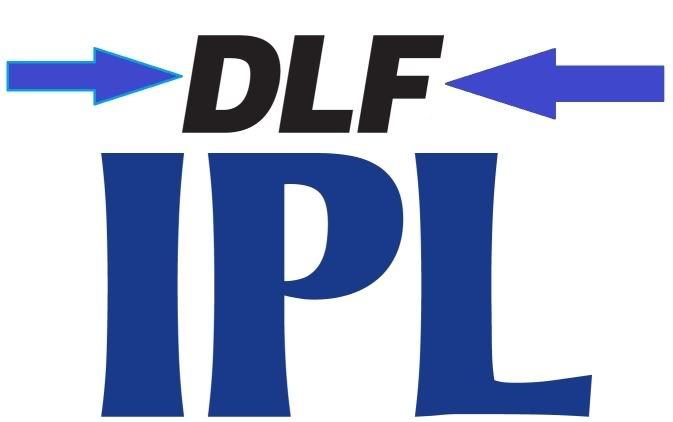 Shastri: Yeah man, if you saw a giant blimp in the air would you call it an ordinary blimp or an MRF BLIMP ? HUH! you need to be clear about what things are called!!! I just get the feeling that you're…….
THE ANGAD BEDI: By the Way Lalit Sir. I have a huge doubt. See supposing it's a big DLF IPL match. Let's say Mumbai Indians vs. Rajasthan Royals .Assume that Yusuf Pathan is batting and Dwayne Bravo is bowling.
It's the 19th over ,Rajasthan need 5 runs of six balls. Dwayne Bravo balls…..Yusuf Pathan swings…it connects.
And the ball appears to have gone for a six …..errr…..sorry DLF Maximum BUT is just caught short of the boundary line by a brilliant diving catch by Lasith Malinga and Yusuf Pathan is out.
My question Lalit Sir, is whether we have to call this catch a Karbonn Kamal Catch or a Citi Moment Of Success?
I'm confused because Yusuf Pathan's wicket is a wonderful or Kamal catch but it's also the Karbonn Kamal Catch which leads to the Citi Moment Of Success.
But on the other hand, it could be called a Karbonn Kamal Catch .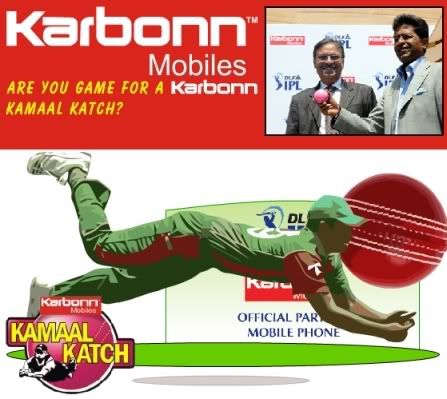 BUT it wouldn't be a successful moment. That however is not possible since catching the Kamal Karbonn Catch by default makes it a Citi Moment Of Success.

So in this hypothetical scenario, is it a case of the Karbonn Kamal Catch or a Citi Moment Of Success?!That is a paradox inherent to the nature of the DLF IPL.
Shastri : I just get the feeling ….that Albert Einstein and Stephen Hawking combined would have a tough time solving the Karbonn Kamal Citi Moment Of Success Paradox. They might explain The Theory Of Relativity as quick as a speeding tracer bullet but the question is can they solve the
Karbonn Kamal Citi Moment Of Success Paradox?
THE ANGAD BEDI: Shastri Sir, you are great Sir. Tell me how I can be like you Sir. Even I want to 'Just Get The Feeling' like you Sir!!!
Shastri: To be a commentator like me Do What You Love, Love What You Do, Use Blackberry.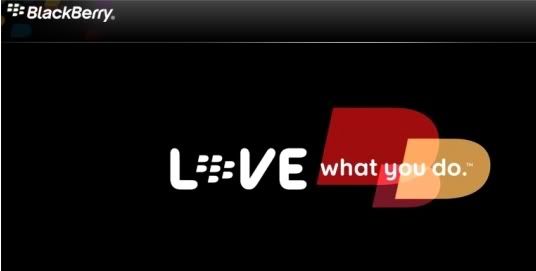 One more thing, To Be Like Me Use Videocon Also , Because V Is The New Me.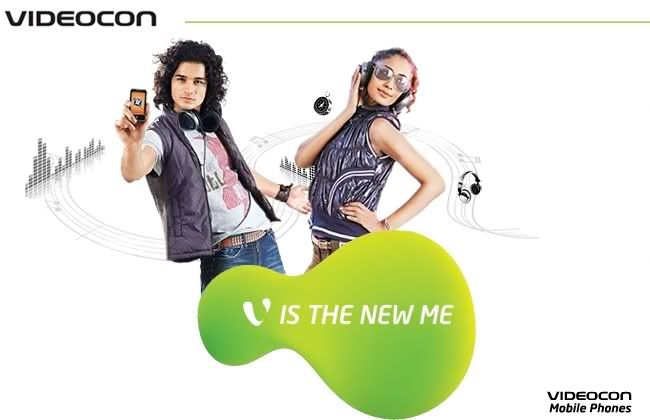 Modi: But I thought you were Ravi Shastri who gets feelings!!!!
Me: Oye! Are you Ravi Shastri or should I call you V?
Modi: Rakesh Sir, let us take a Maxx Mobile Strategic Timeout to let Ravi Shastri decide if he is Ravi Shastri or V who by the way is the new him.
THE ANGAD BEDI: Yes, and I want to do number 2.Rakesh Sir, can I use your toilet? I promise I'll wash my butt with Jaquar Fossets and related Jaquar Butt Cleaning Equipment as in pop up ads during DLF IPL matches.

Me: Bloody fool, I've just about had enough of you. Get out of my house right now!!!
THE ANGAD BEDI: But Sir, my number two.
Me: You Bastard, This is my house. You think I'm running a public toilet or what? Get out of my house right now!!!!****GRRRR****
Modi: Angad beta, don't mess with Rakesh Sir .Tujhe Shock Lagega. Havell's Shock Lagega.
THE ANGAD BEDI: Sorry Sir, I will control Sir. I will meet you some other time Sir. Till then I shall crap on all the viewers of SET MAX.
Bye everybody, THE ANGAD BEDI signing off!!
Shastri: I just get the feeling…… I'm going to miss that little fellow. He's a very promising anchorman. He is a true Pepsi Youngistaan Ka Wow.
Modi: Oh look Rakesh Sir; I can see the MRF BLIMP from your house. I'm so happy for MRF.They've got so much exposure after partnering with the IPL.

It's such a big step to go from Sachin Tendulkar's Bat all the way to a white, shiny canvas balloon filled with hot gas!!! The DLF IPL has made it possible.
I can't believe this Kapoor fellow wants to reduce the number of ads.
Kapoor: Rakesh Sir, do something. These guys still haven't done anything about all those damn ads.
Me: Hmmm, OK Lalit do you realize that the entire time you and Shastri have been here, you've spoken pretty much about everything from Nestle Munch to Karbonn Mobiles to Pepsi.
SADLY, YOU HAVEN'T SAID ANYTHING ABOUT THE CRICKET. THE SPORT THAT YOU IRONICALLY USE TO DRIVE IN ALL THAT MONEY. NO WONDER YOU ARE SHARD PAWAR'S LITTLE MONKEY BOY.
Modi: But Sir if we have 8 teams then we will have matches .All Those Matches, All Those Stadiums, All Those Cheerleaders, All Those Actors And Actresses ,All Those Cameras. And From Next Year We're Adding Two More Teams So that's 10 Teams, More Matches, Stadiums, Cameras, Cheerleaders and So More Ads.
Me: Arre yaar. If having so many teams is the problem then combine all the current IPL teams into one giant team .Then you have to show fewer ads maybe just one even.
Modi: What??? I don't understand.
Me: Wait, I'll come back to you.
Listen IIM Kapoor. If you hate the ads so much then watch the IPL matches for free on YouTube. The ads are less.
Kapoor: Wow!! I didn't know we could do that. I'm watching IPL on YouTube!!! Yeah!
Me: And as far you go Modi. Take all the existing 8 teams and combine them into 1 giant team. You can call it:
The
Super
Royal Daredevil Knightriding Charging Challenging Eleven
Indian
Kings
So The:
Super Royal Daredevil Knightriding Charging Challenging Eleven Indian Kings = Giant IPL TEAM!
Problem solved. Now get the FU*K out of my house and die with the AD you MAD people."