I have always been interested in the monkey antics of television performers. Some of them operate under the guise of actors; others do so under the guise of singers, dancers and cricket experts. Under extreme cases you will also find television performers in the guise of cartoons and journalists. Making a differentiation between a cartoon and a journalist on TV is quite hard but cartoons are generally entertaining. For example
PERMAN
on Nickelodeon
is a wonderfully entertaining cartoon.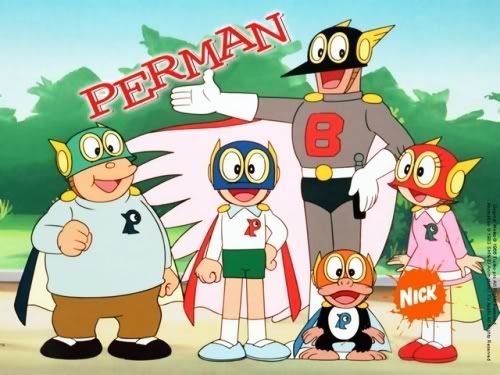 Anyhow, there is one journo on TV who is an expert brain rattler. Watching him perform on TV gives you the feeling of constipation and diarrhea at the same time. The sensory overload from the
Gastro
-
Intestinal-Tract overloads the brain with a jolt of epileptic fits. In common parlance we call this the
Prabhu Chawla Effect
.
Prabhu Chawla was the dude who used to host 'Seedhi Baat' on Aaj Tak.These days Prabhu is busy doing other things on another channel. Meanwhile Seedhi Baat is now being hosted by a dude called MJ Akbar and before you think it his full name is not Michael Jackson Akbar.
This entry in my journal is not about Prabhu Chawla or MJ Akbar.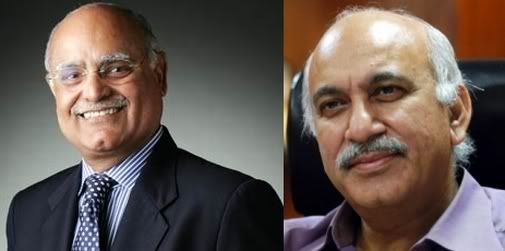 It is rather about Seedhi Baat.
The following is the top secret transcript of the interview between MJ Akbar and Sharad Pawar or S Pawar or Sharad P aka the chief of the ICC and the Hon-Her-Able part time Agriculture Minister of India on Seedhi Baat.
Here's MJ Akbar and Sharad Pawar discussing Anna Hazare, Corruption and the works:
==========================================================================
MJ: Dear Viewers, welcome to Seedhi Baat .Today we will do Seedhi Baat with this exceptionally Tedhi Fellow Sharad Pawar. Welcome to the show Mr.Pawar!
Pawar: Eh! Screw you OK. You are looking upon me with contempt. If Billy Bowden can have a Tedhi Ungli and become famous in Pepsi Ad then why can't I, Sharad Pawar have a Tedhi personality and be even more famous?
MJ: No No Sir, I am appreciating your tedhi-ness!
Pawar: Oh! You should have said that earlier itself!!! Now ask your questions and we shall commence with Seedhi Baat
MJ: Mr.Pawar, what do you think of Anna Hazare asking for your resignation as a Minister in the Cabinet on charges of corruption?
Pawar: Hmmm
See, Anna Hazare has got wrong ideas about CORRUPTION. Someone has told him that corruption is a bad thing. Annaji needs to realize corruption is the lifeblood of India.Corruption is our national heritage and we should not be campaigning to get rid of it rather we must be campaigning to increase it.
MJ: WTF?! Increase Corruption? What are you saying Pawar Saab?!!

Pawar: Look Man! Corruption is necessary in today's world because we live in inflationary times.
With inflation everything costs more. Because everything costs more even honest people (like me) have to resort to corruption. It's all the fault of garbage fellows like APPLE that corruption is predominant.
MJ: Apple! What the fruit?!
Pawar: No Yaar! Hahaha! Not the fruit which is a moderately rich source of Vitamin C but the American company headed by Steve Jobs which makes electronic consumables.
MJ: Oh! But how is Apple responsible for YOUR corruption?
Pawar: Companies like APPLE are the single most contributing factor towards people performing corruption. Corruption used to be a choice matter a few years back. Nowadays it is a necessity, plain and simple and it is because of companies like Apple.
Every year Apple makes something new like 'i-phone' and i'-pad'. Simply they keep releasing some new fancy gadget with 'i' title and they do this every year.
For example last year they released iPad. This year they have released iPad 2. Then for the past 4 years they have been releasing iPhones. Each new iPhone or iPad is better than the previous one.


MJ: But Mr.Pawar what do the iPhone and iPad have to do with corruption?!!
Pawar: Eh! They have everything to do with it OK!! It is because of iPhone and IPad that corruption happens.
If they keep making new 'i' things then people will want to buy them but because they don't have the money to buy 'i' stuff they have to resort to corruption.
I mean what is the need for someone like me to care about Apple? I can simply manage with my normal mobile phone but I want to appreciate hard work, innovation and marketing. That's why I buy a new iPhone every year.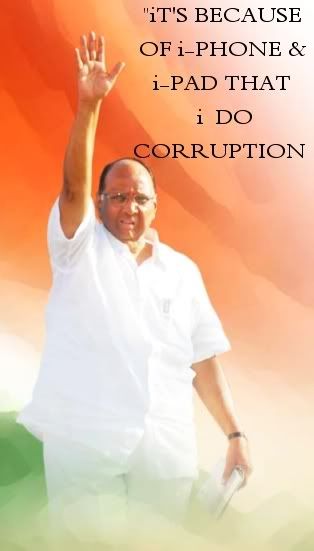 It's my way of caring for the hard working people at Apple. If they put so much effort into making a newer, faster and better iPhone and I don't even buy it then how will they feel?
It is because I have too much regard for their feelings that I have to perform corruption so that I can buy the efforts of their toil!! Anna Hazare must realize this.
MJ: I don't understand this Pawar Saab. Why can't you just buy these things in installments /EMI and therefore not do corruption?
Pawar:
Because…Because I have Self- respect. Sharad Pawar does not buy things on EMI.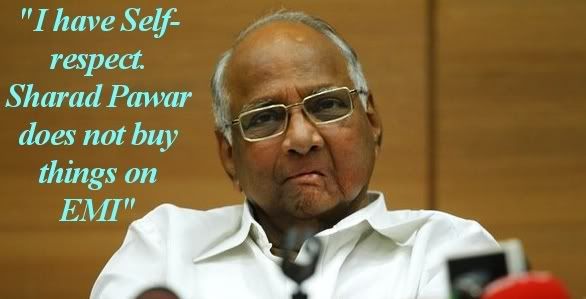 MJ: What about Anna Hazare saying that you are a bad influence on aspiring politicians?
Pawar: Hahahaha! Bad influence!!! Anna does not know what he's talking about. How can I be a bad influence? I am the best influence any politician can ever have not just in India but the entire world.I mean how many people have come up under my guidance?
Just think of people like Madhu Koda, A.Raja, Suresh Kalmadi, CVC Thomas…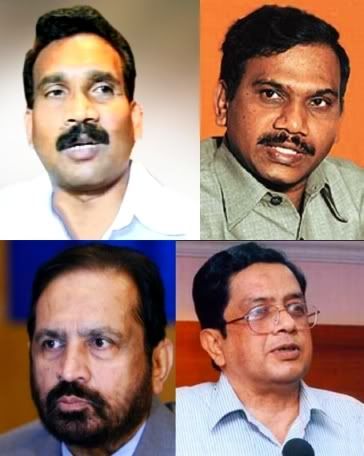 Who were these people before they met me huh?
They were on the bloody roadside doing 20 rupees and 30 rupees corruption. Who took them and taught them how to do 200 crore and 300 crore corruption Eh?!
And Lalit Modi? - He used to get caught pissing in his pants when he was in school. Who taught him to do corruption in IPL and escape aaram se to England away from anti corruption agencies huh?! It was Me.
MJ: Are you saying your corruption has gone unappreciated?
Pawar: DEFINITELY. I tell you, this country has no appreciation for talent and hard work.
In every other country people have put up statues of me. They worship me because when it comes to corruption I am frankly speaking the world's all time greatest corruption performer.
India should be putting my face on a postage stamp, declare a research fellowship in my name. DAMMIT,EVEN GIVE ME THE BHARAT RATNA!!!!
Instead people like Anna Hazare want me to resign?!! What bloody nonsense!!
Just like people worship Sachin Tendulkar, they worship me. In Cricket stadiums fans hold the sign saying 'Cricket Is My Religion. Tendulkar Is My God'
Every MLA and MP wants to be like me. My fans stand in the Legislative Assemblies and hold up the sign 'Corruption Is My Religion. Sharad Pawar Is My God'

Everyone is making a big deal that Sachin finally won the World Cup.


What's so great? I Sharad Pawar am the ICC Chief. I have won the World Cup so many times before!! Why am I not being appreciated for this?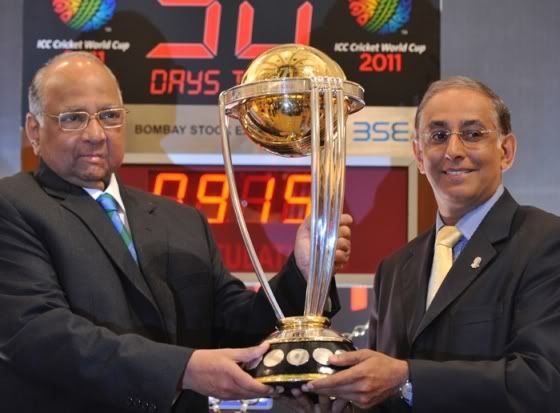 MJ: Don't you think that Anna Hazare's hunger strike has hurt your image?
Pawar: Of course not! It takes more than a mere hunger strike to get me down. Anna is a Gandhian.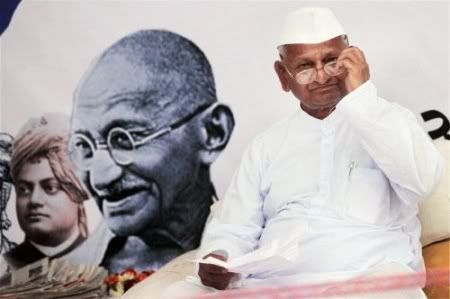 He is also someone who believes in the cosmic law of goodwill and punishment. We call this in Hindi as Paap-Punya.He thinks that by undergoing a hunger strike he can earn goodwill and boatloads of Punya but what he has to learn is that I will always earn more Punya than him.
Don't forget I am the Agriculture Minister. Because of me millions across India have been starving sometimes even to death. Tons of grains have been rotting in godowns. All those people who have nothing to eat because of my Agricultural Policy's direct impact are all undertaking their own hunger strikes.
Millions are fasting because of me whereas Anna Hazare is just one, so even on the Punya scale by making multitudes fast I have gained more Punya than Anna Hazare.
MJ: Last question Mr. Pawar. What do you think will be the impact of Anna Hazare's fast?
Pawar: Anna Hazare is a good man but I am a great man.He has unfortunately fallen into the hands of really bad people who are telling him wrong things about me.
Annaji must know that his entire hunger strike was sponsored by 7UP NIMBOOZ. He is in league with Corporates to hurt my image!!
MJ: What are you talking about Mr.Pawar?!!! This is shocking!!!!
Pawar: Then what?!! When Annaji broke his fast the first thing he drank was a bottle of 7UP Nimbooz. That is admitting that Nimbooz was the official sponsor of the Anna Hazare hunger strike: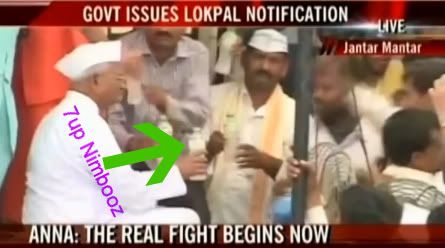 MJ: Wow! Pawar Saab! You are a great man! Undoubtedly the most corrupt man of all time!! You are a genius. You rock\m/
Any closing message for your fans Mr.Pawar?
Pawar: I just wanna say that corruption must be respected. Doing corruption is not easy so you must always admire it.
Now all of you listen to this song, Ridin' Solo by Jason Derulo. It's awesome! Enjoy!!!