|| OM SRI PADMANABHASWAMIYE NAMAHA ||
Dear Supremely Supreme Personality Rakesh Sir,
I Sharad Pawar, am writing this letter to you today not as India's most successful Agriculture Minister or as India's most successful former Chief Minister of Maharashtra. I also don't write this as the President of the International Cricket Council (ICC).
The fact of the matter is that as a distinguished veteran and daringly honest politician in the Indian democracy, I have accomplished a lot but still there is a deep hole in my heart which can only be filled by doing more for my country and her fellowmen. In Hindi we call this 'PAROPKARI' attitude and it is this attitude that I wanna demonstrate in my future endeavors.
I am writing this letter to your Greatness out of a deep sense of devotion and longing to do sincere heartfelt service for my great country India.
But Rakesh Sir, I cannot do this without your help. This is why I am requesting your legendary guidance and mercy.
All I desire now is to put more smiles like that on the faces of my fellow Indians and this is where I need your divine help.
By no means is this treasure as big as your multitude of vast treasures Rakesh Sir. I mean your coin purse alone is more valuable than hundreds of such treasures ...combined!
However this money is no small amount for me and as someone who has always been a guardian of wealth I feel I must now be put in charge of the Sree Padmanabhaswamy Temple treasure also.
Therefore I beseech you from the bottom of my heart to get me on the Trust Board of the Padmanabhaswamy Temple. The treasure must be guarded for our Great Country's sake.
After a lot of thought I have reached the conclusion that none better than me is best suited to handle this treasure because frankly no one is more suited to guard a treasure than me! I have the necessary experience as I have guarded so many treasures in the past:
- The Abdul Karim Telgi Stamp Paper Treasure
- The Lalit Modi IPL Treasure
- BCCI and ICC Advertising Revenue Treasure
- Maharashtra Government Alliance Partner Treasure
- Agriculture Ministry Treasure
- Sugar Price Management Treasure
- Swiss Bank Hidden Treasure
- Maharashtra Real Estate Treasure
And many many more treasures, etc,etc
Of course while the popular demand is for your greatness to personally interject himself and take charge of this treasure, I know for a fact that your highness never concerns himself with such small treasure which is worth nothing more than a few paltry Crores so I won't even make the mistake of insulting your EPICNESS by even suggesting that you take a hold of the Kerala treasure.
However the world is a place full of thieves and scoundrels. There are those who greedily look upon this treasure as their
own. As
a proud Indian I feel I must do everything I can in my power to protect this great treasure and therefore I request you to use your influence and get me a position on the trust board which currently administers the treasure.
Only you can fulfill my dream of protecting the treasure Rakesh Sir!
Over the past few days my devotion towards God Padmanabhaswamy has increased exponentially and I am now a fully fledged believer in the Greatest God Sri Padmanabhaswamy!
Some people may be surprised that I have switched allegiance from Maharashtra God Ganesh to Kerala God Padmanabhaswamy but I can't help it. I am a politician. I change sides all the time! So if you really think about it I'm just being honest to myself and because of this honesty I deserve to be the treasure custodian.
Many will say that I lack the religious heritage to be the temple's treasure guardian. This is yet another untruth because I am filled with religious traditional worship of Sri Padmanabhaswamy. Everyday I am more than willing to bathe in the Holy Temple Tank Waters at the crack of dawn and perform Pujas for Shri Padmanabhaswamy.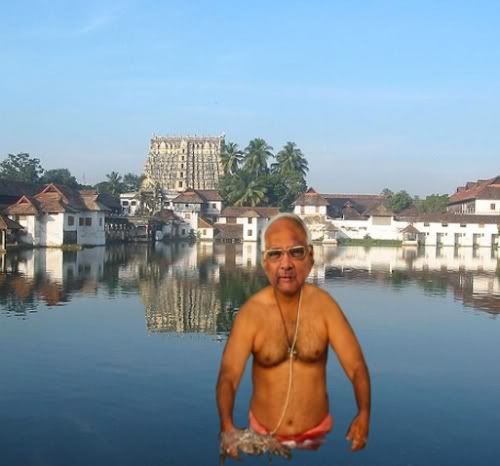 I have always admired Sri Padmanabhaswamy and it is because of this admiration that I want to serve him. God is tired after carrying the treasure for so many years and he needs rest. Therefore I will step in and take over treasure keeping duties.
I am making sincere efforts to worship Padmanabhaswamy's treasure as best as I can. I am taking tuition to learn the 1000 names of Vishnu in the sacred Vishnu Sahasranamam text so that I can worship God Padmanabha who is a form of Vishnu afterall. In this regard I have also bought a CD of the Vishnu Sahasranamam sung by none other than Bharat Ratna MS Subbulakshmi so that I can sing it while I am guarding the treasure!!
I am also willing to cut barriers and become a bridge between all Vishnu worshippers. FOR THE SAKE OF PADMANABHA AND THE TREASURE I SHALL EVEN ADOPT THE AUSTERE 'IYENGAR' METHOD OF WORSHIP AND PAINT MYSELF ALL OVER WITH THE ICONIC NAMAS OR VAISHNAVITE MARKS JUST SO THAT I CAN WHOLE HEARTEDLY GUARD THE TREASURE.
Now I admit that sometimes guarding the treasure all by myself can be difficult but this is where good help comes in. I propose that a security task force be formed to guard the treasure comprising apart from myself the esteemed Suresh Kalmadi, A.Raja and as a woman member Kanimozhi!
I just want to serve my country by guarding this vast treasure Rakesh Sir so PLEASE PLEASE PLEASE PLEASE PLEASE PLEASE PLEASE get me a spot on the Trust Board of the Sri Padmanabhaswamy Temple!!! PLEASE!!!
Sri Padmanabhaswamy's Most Worshipful Devotee and Humble Servant,
Sharad Pawar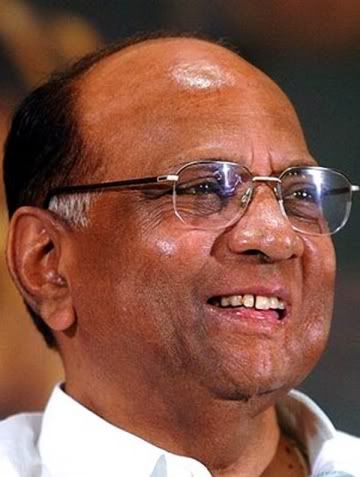 "I Am Willing To Accept the Responsibility of Guarding the Kerala Sri Padmanabhaswamy Temple Treasure"