As you know by now, I've been partying (!!!!!!!) in Mauritius . That's right! Seeing that as I'm a strict believer in the universal doctrines of ALCOHOL MANAGEMENT, I've been a prime example of what it means to be an exemplary party thrower /party goer.
As a result I've been filling myself up with all kinds of liquor --- BEER! My favorite single malt scotches , brandy , other types of whisky, gin, rum, vodka , wine, etc,etc. My wild partying ways have also enabled me as always to consume huge quantities of our own desi country because my country is great and I love my country.
Combined with an infinite amount of daru and even more infinite number of Patiala Pegs my Mauritius adventure has been truly legendary!
I mean so legendary that when I arrived on the island, the very Prime Minister Of Mauritius, Navinchandra Ramgoolam personally escorted me all the way to the insanely 100+ star hotel that I had rented out for all my close friends and family. My closest buddies from across the planet all assembled in one place to celebrate an event so Path Breaking, Inter Costal, Humongous, Gigantic, Enormous, Gigantic + Enormous = Ginormous, Universe Splitting, Super Duper Galactic, Transgressing Space And Time Itself – A Once In An Epoch Occurrence – My 50th Birthday!
This cosmic occurrence of wonderful awesomeness to celebrate the 50th birth anniversary of my great self as a humble vessel ever devoted to the service of the world by way of facilitating exchange of currency via mutually traded securities upon stock exchanges of the world deserved a luxurious ravish affair and by God! The Gods themselves looked down upon the island of Mauritius as I threw the greatest party the world has ever seen.
Because when Rakesh Jhunjhunwala throws a party, it isn't just a random gathering of human beings eating, drinking and being merry. It's like nothing you've ever seen before or will ever see again. A Rakesh Jhunjhunwala party is a glorious invigoration drilled into the very fabric of human consciousness and history, left to mortal beings and their descendants as a testament to gather from the pages of history to that which truly is a celebration of life.
And such is the celebration I bestowed upon Mauritius that local Mauritians now want me to become their President and Leader.
After witnessing the rivers of champagne and barrages of the choicest of human food ever produced in my birthday party, local Mauritian elders started to beg me to take their daughters unto myself and make them my wives but I declined due to my unwavering loyalty to my sweet wife Rekha who has worked hard to make my party a success.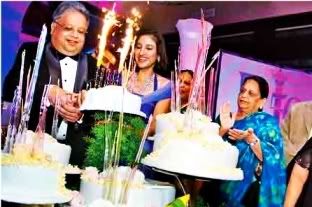 Now, throughout my life I've had various birthday parties at various stages of my life – like when I was a small baby: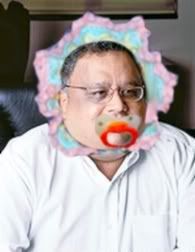 Or when I was a rebellious younger teenage punk rocker:
This party however pwned them all. Even Heavy Metal band Metallica volunteered to cancel their music tour to play at my birthday after they heard my great self was throwing a bash. But being a kind hearted soul, I did not want to rob other Metallica fans of hearing them; so I told Metallica that they could play just for me after their tour. Metallica were pretty disappointed but after I consoled them, they felt better and promised to dedicate their next album to me.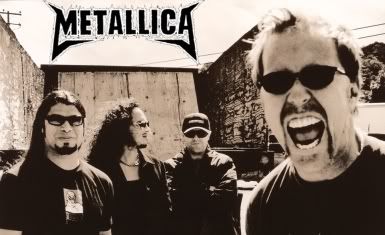 Since Metallica were busy I decided to have the second most Heavy Metal bunch of ass kicking rockers on this planet to play for me. Hence I flew in Roop Kumar and Sonali Rathod.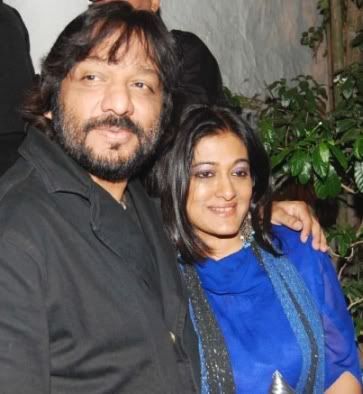 That's right! After Metallica Roop Kumar and Sonali Rathod are the most electrifying, ass kicking bunch of head banging hardcore rockers there are ……RIGHT.
Even Rahat Fateh Ali Khan was there. But Rahat is not fit and sexy like me. In fact he is fat. I prefer to call him Rahat FATTY Ali Khan.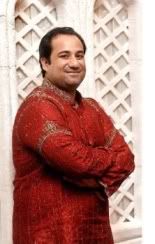 All parties have clowns and mine too had a very special clown. For his hilarious antics I flew down Ajit Agarkar because Ajit Agarkar is the best clown there is. Just the sight of his face made Little Nishtha howl uproariously with laughter!!!
Apart from the drinks, singers, dancers, the great food, the entertainment, the mirth, the laughter, the merriment and the chaos, this party to celebrate my 50th birthday was by far my most Special Birthday simply because my greatest wealth was with me – My Dear Family & Friends. My Mom, Rekha, Little Nishtha and The J Twins Aryaman and Aryavir all made this celebration a truly great event.
CHEERS TO 50 YEARS OF KICKING A$$ AND MAKING CA$H!!