The following is an advertisement for the next videogame that will be promoted by Hungama Mobile,a company I have a huge stake in on mobile phones across India.
This game rocks Even More Than Gas Fight!,Check it out.
###########################################################################

The Story So Far….
The year is 2008.The planet's grand council of esteemed gentleman known as The Board Of Control For Cricket In India or the BCCI have decided that the time is ripe for the next evolution in the sport of cricket.
A gargantuan league of epic proportions named as the Indian Premier League or the IPL is established. One that will satisfy the insatiable appetite of a billionous multitude of cricket loving fanatics, enthusiastic , excited and forever gluttonous .
A young, exuberant marketing savvy motormouth is placed as its figurehead and boss. His name is Lalit Modi.
In a little under 3 years, the league becomes a gigantic success. One unlike which the world has never seen before.
But all is not right, Lalit Modi has used the time to not only make the IPL a giant success but more importantly turned rogue….
Lalit Modi has now grown into a monster that has gone beyond the control of the grand council of the BCCI. He is now on his way to control the entire sport of Cricket in the palm of his hand.
As he captures and controls every last cricketing bastion on the planet using the IPL it is now upto YOU to succeed against all odds and stop him….
UBISOFT in association with the International Cricket Council present :
IPLGATE 2010 – THE VIDEOGAME!
That's right! After the on field action and off the pitch drama comes the virtual adaptation of the IPL saga on Sony Playstation , Xbox 360 ,Nintendo Wii and handhelds SONY PSP and Nintendo DS. Not to forget the latest apps for the I-Phone and the newly launched I-Pad!!!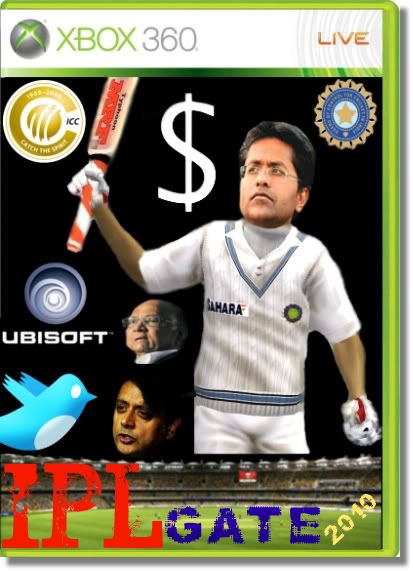 FEATURES INCLUDE :-
# Play in exclusive first person mode as the HERO and personally destroy the evil empire of Lalit Modi!
# Infiltrate the IPL as a low level BCCI operative and gain important T20 franchisee information.
# Track BENAMI holdings and shell companies .
# Decipher cryptic money laundering schemes and investigate IPL black money in offshore accounts such as Swiss Banks,Luxembourg , Mauritius and many many many more!!!
# Team up with the Income Tax Department of India to interrogate Lalit Modi in hour long questioning sessions!!
# Conduct BRAIN MAPPING ,POLYGRAPH and the infamous NARCO TEST on Lalit Modi and IPL team owners like Shahrukh Khan to get to the bottom of the truth!!!
# UNLOCK BONUS LEVELS where you can use the RR PATIL 3:16 ASS WHOOPING MACHINE !! GO hardcore, deliver stunners!!! and bash the holy hell out of redundant weasel boy THE ANGAD BEDI and Deepika Padukone's stalker Siddarth Mallya!- AND THAT'S THE BOTTOM LINE COZ RR PATIL 3:16 SAID SO!!!!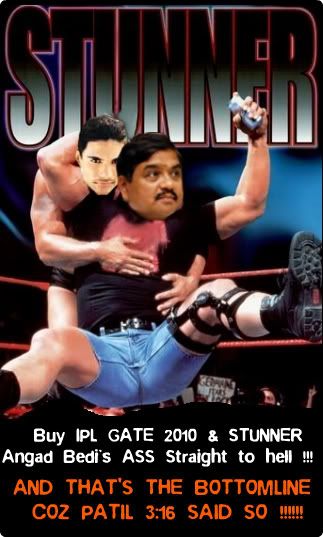 # Attend virtual IPL matches as you investigate Lalit Modi like an undercover James Bond!! Watch matches with gorgeous babes Katrina Kaif and Preity Zinta. Attend the after parties, get stoned and do naughty things with models and IPL cheerleaders!!!!
# Hack into Lalit Modi's twitter account and reveal intricate shareholding patterns of Sunanda Pushkar and other IPL teams!!!!
# File Chargesheets, deliver showcase notices and file corruption notices against Lalit Modi!!!
Features Enhanced 3d Animation,Cutting Edge Gameplay Control And Superb Voice Over's!!!
Also features 'VILLAIN' mode where you can play as Lalit Modi!!! Deceive the BCCI and the entire world!!
In Lalit Modi Mode Or Lalit MODE You Can :
$$ Be the master villain and cause all round destruction, wreak havoc and tumble the BCCI into disorder. Unleash total anarchy in the cricketing world as Lalit Modi – THE JOKER!!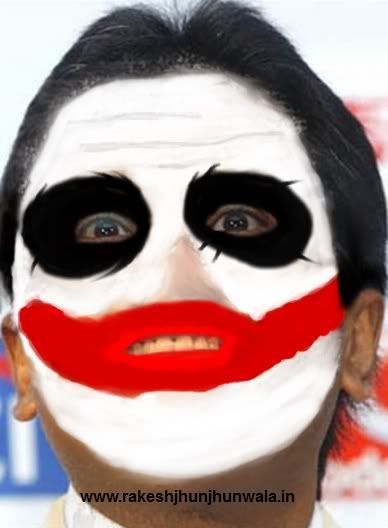 $$ Be the architect for the sacking of Shashi Tharoor as a cabinet minister!!
$$ Charge facilitation fees to award TV broadcasting rights!!!
$$ Personally use the MRF BLIMP as your plane and travel from one IPL stadium to another!!!
$$ Speak and spray spit like a jellyfish who's had its tongue burnt and tied into a huge knot!!
$ Hire the world's greatest lawyer RAM JETHMALANI to fight your case against the BCCI!!!!
$$ Award huge stakes in IPL teams to members of the Modi family!!!
$$ Cause disruption and chaos in Parliament giving politicians something to talk about!!!
$$ Garner support from eminent IPL team owners like Dr.Vijay Mallya and woman who wants to shut up and bounce Shilpa Shetty!!!
Pre order this game today and we'll even throw in the new book by IIPM Dean , revolutionary management guru, intellectual, expert chicken counter ,rock star MBA action person and 'National Thinker' ,Professor Arindam Chaudhuri titled Discover The Diamond In You!!!

That's not all!!!
In IPL gate 2010 the videogame you can also enjoy multIPLayer Plots!!! So call over your friends, team up and KICK ASS!!!
In multIPLayer status you can:
Become a full time member of the IPL governing council and mastermind the ouster of Lalit Modi!!!
+ Choose from a wide range of characters and play as Sharad Pawar, N.Srinivasan, Ratnakar Shetty, Arun Jaitley, Rajiv Shukla, etc!!

+Play also as the eternal Indian cricket expert voted 'Sexiest Cricket Administrator Of The Decade' by Wisden Magazine – Niranjan Shah!!!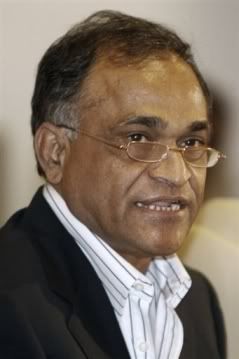 + Get the top score and view the 3D trailer before anyone else of the upcoming film on the trysts, trials and struggles of BCCI President Shashank Manohar to chuck Lalit Modi out of the IPL – THE SHASHANK REDEMPTION !!!!!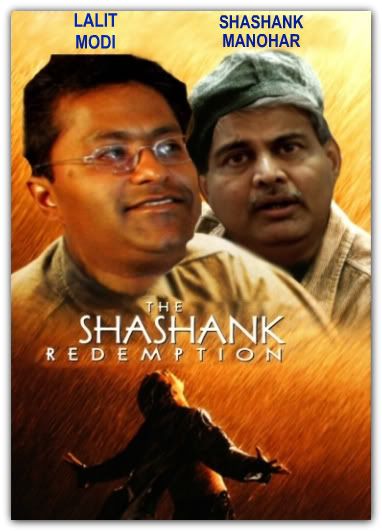 + Appoint the Fake Jhunjhunwala or Chirayu Amin as the new Chairman of the IPL!!!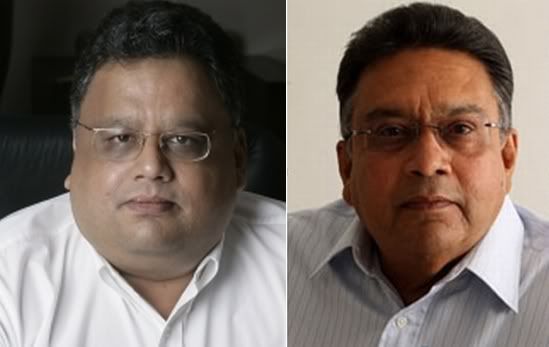 Buy IPL Gate 2010 Also From Telebrands!!!
Hear this exclusive testimonial from a satisfied Telebrands customers who has received 200% satisfaction after playing IPLGATE 2010!!!
"YO check it, this game is where the shitzz at, I mean I'm like totally attracting the babes on me thankzz to this rad game YO!
Them Bitches and Ho's simply can't get enough of this big bad booty YO,even more after I started to play IPLGATE .I'm a Babe Magnet YO!!
You gots to buy this game .I'm a totally be the Prime Minister Of India again thanks to this game YO!!
This game's gonna totally get me all the votes of the younger generation peoples yo!!!
Even Kumaraswamy's playing this shit YO!!"
-- Deve Gowda,Former Prime Minister Of India ,Youth Icon ,Video Game Lover And Aspiring Rap Music Artist.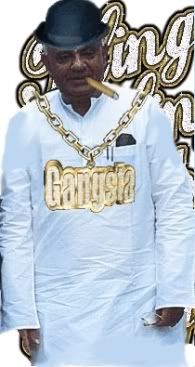 BUY IPLGATE 2010 TODAY!!! Also visit http://twitter.com/jhunjhunwala for Gameplay Hints,Strategy,Walkthroughs,Cheat Codes and more !!!!
IPLGATE 2010 - THE Videogame. Releasing Nationwide.

May 2010.