Jack Key Chain | Detroit Correspondent
Wednesday, March 23, 2011
Speaking to The J Times from his Detroit recording studio, American rapper, singer, songwriter and part-time Hockey player Marshall Mathers known more popularly as Eminem and considered to be one of the top music artists in the World said today that his latest music video titled 'I Need A Doctor' is a tribute to the Hon-her-able Chief Minister Of Tamil Nadu Dr.Kalaignar M.Karunanidhi and not actually fellow rapper Dr.Dre as commonly thought to be.
Eminem said "It's a misperception that the song I need a doctor is written about Dr.Dre. It's in fact an homage to the man I consider to be the most inspirational figure in my career-Dr.Kalaignar. I mean where would I even be as a rapper if it weren't for the strong principles I imbibed after watching the recorded speeches of Dr.Kalaignar in which he so purposefully vented out his frustrations against the persecution of the Dravidian peoples?"
"As a young boy growing up in Detroit I realized the social message that Dr.Kalaignar was trying to spread in his speeches and it's the same messages that I try to spread through my music" Eminem said as he waved an Agarbatti at a photo of Dr.Kalaignar in his recording studio.
Eminem further clarified "Dr.Dre does appear in the music video but that is only a guest appearance and since his name is also 'Doctor' and honorable Kalaignar's name is also 'Doctor', the fans have thus gotten confused over which Doctor I am actually referring to and that's why I wanna say once and for all that the doctor I am purported to need in 'I need a doctor' is Dr.Kalaignar and Dr.Kalaignar alone. I cannot emphasize this fact enough"

Continuing to talk about Dr.Kalaignar as he wrote down verses for his next song Eminem commented "I still remember the day when I was performing in Berlin, Germany. I was not feeling confident at all about my performance. I thought the show would flop. As I went on stage shakily to perform I heard a loud cheer. I turned around and was shocked and amazed at the same time to see Dr.Kalaignar Sir on his wheelchair smiling reassuringly at me."
"That's when my heart started pumping faster with excitement. I touched Dr.Kalaignar's feet and started performing to an overjoyed crowd. It was so awesome to see Dr.Kalaignar hanging out with me on stage. Even the German fans went wild seeing the scion of Tamil Nadu politics on stage with their favorite rapper. Later I realized that Dr.Kalaignar had flown all the way from Chennai to Berlin just to give me moral support. What a great man!" Eminem recalled as his eyes filled with tears remembering the emotional moment.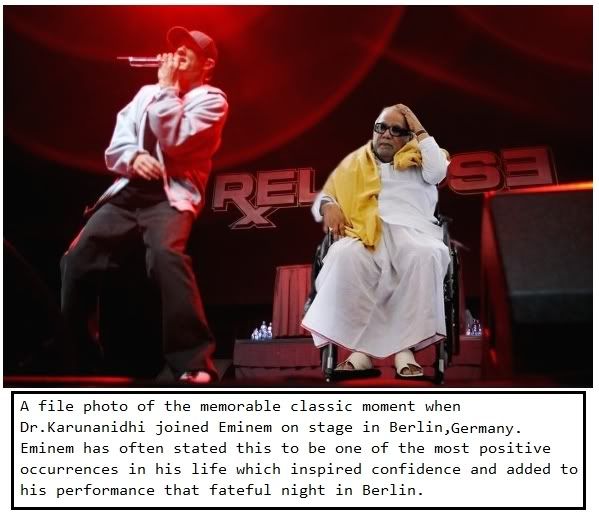 When asked about Eminem's closeness with Dr.Karunanidhi and the latter's overwhelming popularity AIADMK Party Spokesman V. Maitreyan commented "Look, this country and especially Tamil Nadu has enough doctors. We don't need any more doctors. So Eminem's political message of 'I Need A Doctor' is just an attempt to distract voters from who they actually need and that is Amma Jayalalitha. In society who is greater? You tell me – Mother or Doctor? It is definitely Mother and that is Amma. That's why please vote for Amma Jayalalitha and AIADMK Party in upcoming Tamil Nadu State Assembly Elections because at the end of the day Mother is always greater than Doctor"
Eminem also spoke of how Dr.Karunanidhi has an impact on his life in other ways "As a musician I lead a very busy life in a very scandalous and stressful working environment. The paparazzi and fans are always behind Me. That's why I am also grateful to Dr.Kalaignar for starting his own TV channel Kalaignar TV. Whenever I am stressed I always tune into the refreshing entertainment on Kalaignar TV and my stress disappears. I especially love 'Padava Duet Padalai' on Kalaignar TV. It not only entertains me but also helps in my development as an artist"
Asked about his future and if he plans on coming to India Eminem answered "Of Course!!! I would love to come to India and perform in front of My Hero's home city of Chennai. Actually I was supposed to come right now but because Dr.Kalaignar is busy with State Elections so I have postponed my trip. I am however delighted to learn that Dr.Kalaignar is spreading his extraordinary messages in the New IDEA Telecom Ad Campaign Featuring World Cup Winning Captains"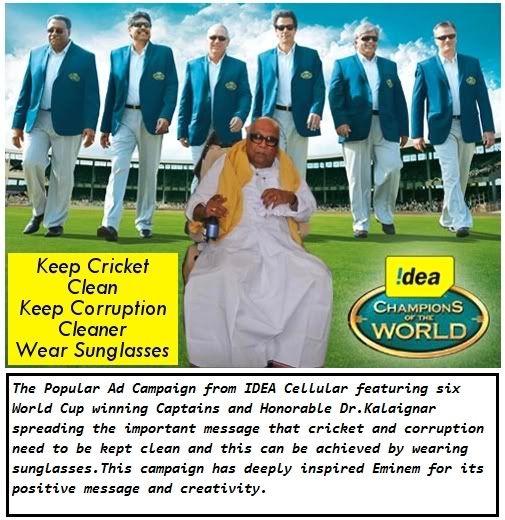 "The message – Keep Cricket Clean, Keep Corruption Cleaner is a super message for young people and since Dr.Kalaignar wears awesome sunglasses it makes sense that he should lead the others who have copied his sunglasses style in the IDEA advertisement"
Eminem concluded quite profoundly saying "It's not just me who needs Dr.Kalaignar. We all need Doctor Kalaignar."