Pritish Nandy
.


That's right. Pritish Nandy. Take a good look at him.
I know he looks like a legitimate badass in the pic with the rad looking shaved head and the straight out of hell goatee. But trust me; actually he's a very nice man. See, he even loves doggie.
Mr.Nandy or Pritish Uncle as I call him is one of the few men capable of teasing me. He does it almost everyday on twitter.
You people know twitter right. I invented Twitter. I also invented the internet , Google , Yahoo , Facebook , Enterprise 2.0 ,YouTube, My Tube, His Tube, Her Tube, What Tube & Why Tube Along With Feedburner , E-Mail, The Cell Phone, Tata Sky DTH Service , Parachute Coconut Hair Oil, Hajmola Candy , The Straight Drive , Airline food,etc ,etc. I even invented the word Etcetera and its abbreviation etc.
A few days ago there I was, minding my own business, tweeting and re-tweeting my awesomeness. Out of the blue Pritish Uncle calls me 'Fat'. What's worse, he makes it sound like as if being fat is a bad thing.
Now I take offence to that, nobody and I mean absolutely nobody disses my fatness. Few men are capable of making fatness look as sexy as I do. I'm not 'PERSON'S MAGAZINE SEXIEST HUMAN BEING OF THE YEAR' ten times in a row for no reason.
I've already said this and I'll say it again. My 6 pack abs make women drool and swoon. My abs need a protective covering which is why I've developed a pot belly to protect them. They act as a protective layer. But Mr.Nandy teases me by calling me 'fatty'.
So I threw the gauntlet down, drew the line in the sand and challenged Pritish Nandy Uncle to India's first ever twitter steel cage match.
Much to his credit, he accepted.
So here's the deal. This Saturday, January 23rd at 6pm. Mr.Nandy and I will be tearing the house down, bashing it into smithereens and burning it to the ground LIVE ON TWITTER unless he develops cold feet . Take a look at the promotional poster.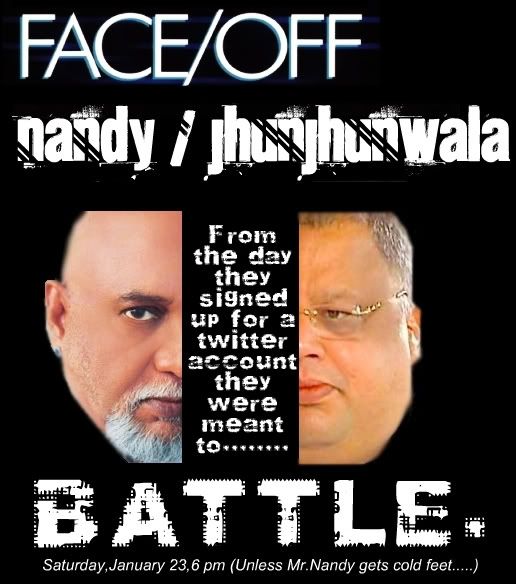 My plan is to trick Pritish Uncle into saying something like 'Cattle Class' and trap him in a web of his own misquotes and misrepresentations that the media will report as 'BREAKING NEWS'.
Now I know some of you are way too lazy to sign up for a twitter account ,so out of the generosity of my heart, I will be posting the transcript of the entire twitter steel cage match right here on the Secret Journal complete with the full set of BREAKING NEWS reactions from all over the world.
I'm throwing the rule book out of the window. This will be no holds barred. The biggest battle in history since that guy from Himesh Reshammiya's team took on that other guy from Shankar Mahadevan's team in the Amul sponsored program Music Ka Maha Muqabla on Star Plus.
All the TV channels are telecasting the ads for this epic clash of the giants.Its like King Kong Vs. Godzilla. The sponsors have lined up, everyone from Pepsi to Kellogg's to LIC. Even the broadcast partner India TV, The Guys Who Invented BREAKING NEWS Are Ready.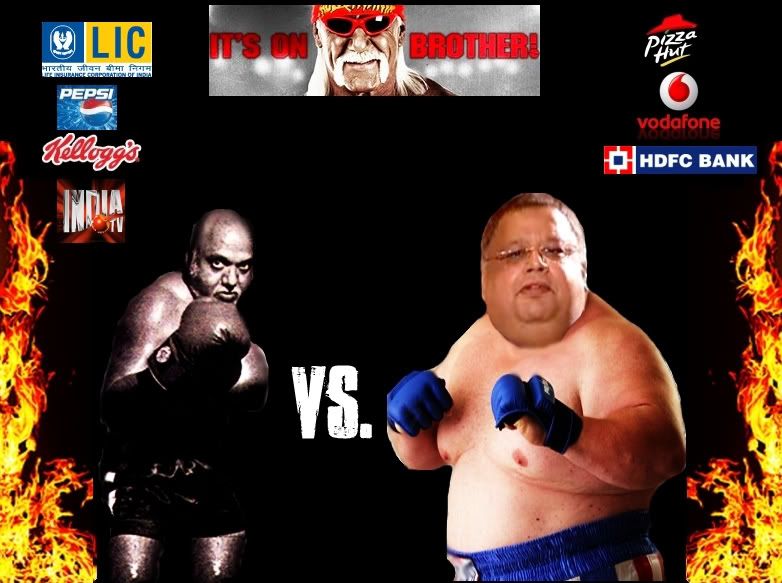 By the way if you're wondering WTF Hulk Hogan is doing in the above poster. Don't be shocked, he was the only guy willing to say 'ITS ON BROTHER'.
I plan to taunt Pritish Uncle with everything and anything under the sun right from Cricket, Politics, Stocks, Films, Art, Music, Business, Stocks, Culture, Astronomy, Medicine, Racism, Terrorism and every other ism and Prism there is under the sky. Right down to the color of his toenails.
And you too can take part. If you have a question for Pritish Uncle then write it down in the comment thread and I'll be sure to ask him but it better be good, if it has no chance of being misinterpreted then I won't ask him and then you can go take a bath for asking such a stupid question.
As the clash of the Titans is going to begin, no, not Titan Watches which is yet another company I have a huge stake in. Here's what a vast majority of people have to say about this humongous super charged brilliant ginormous epic battle of the ages:
A.K Antony, Indian Defense Minister : "On behalf of UPA government we give full assurance that this twitter steel cage match will be 100% safe unlike the Prime Minister's Office which was hacked by Chinese dudes . We have stepped up security along the border to prevent any cyber attacks from Chinese hackers."
Shashi Tharoor, MOS External Affairs, said Cattle Class: "Mr.Nandy is indeed taking this fight very seriously. Just the other day I saw him getting tweeting tips from Bollywood strongman Sunil Shetty. They were both standing in front of a computer and checking out Mr.Jhunjhunwala's twitter profile discussing strategy on possible ways to defeat THE BIG BULL."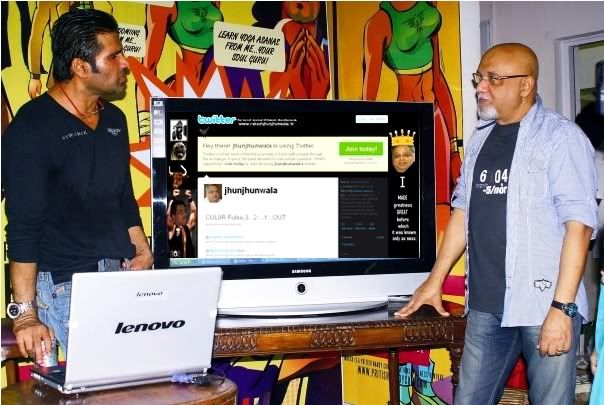 Barkha Dutt, Journalist, Woman with Short Hair: "As a journalist you wait your whole life for an event like this. Its not often that you get the chance to cover a live event as radically world changing and cosmically pulsating at the same time. This is even bigger than the time Prince fell into that borewell.I am truly blessed, I spill tears of gratitude for this opportunity. We will debate this on We The Tweeple."
Nabeel, Softy Kid, Superstar Tweeter : "Well, It's hard to decide. For me both are good friends so I just hope they don't kill each other but I do think Rakesh Gurudev has a slight edge over Pritish Uncle because he has an obvious size advantage. In any case it will be TREAT MILEGA for me :D)))))) :-) yaaaaayyyyyyy! :D)))))):-)"
Shankar Sharma, Bear, Man Hated by Rocky J: " I'm still skeptical about the long term prospects of this 'battle'. We must consider the macro factors after all. Given Rocky J's penchant for promotion strategies, I wonder if this is actually even a real fight or just a pre determined Media Hungama done by Mr.Nandy and Rakesh. But I don't want to say anything because my own SAT hearing is coming up soon."
Gopal Gupta, CEO, Vindu Dara Singh Garments: "Ever since this feud became famous we have been selling t-shirts advertising both contestants and they are selling out very fast.
Mr.Pritish Nandy's company Pritish Nandy Communications is selling its own line of t-shirts.
And Rakesh Bhaiyya is also selling his line of t shirts.
As of today Rakesh Bhai's line is doing slightly better especially since he is more popular with the ladies and because the kids also like the cartoon. Overall both t-shirts are from the same brand. It's just that the screen printing on them is different. Both imported from Mangal Whole Sale Hosiery Cotton Clothes Depot, Ghaziabad."
MF Husain, Painter, Wanted Man by RSS: "I think Nandy Sahib is preparing for this from an expression point of view. He was at my art gallery in Dubai a few days ago keenly observing the finer facets of Rocky J's painting hoping to pick up some useful pointers to help him in the twitter steel cage match."
Ramesh 'The Man' Damani, BSE Member, Good Friend: "I think Mr.Nandy had better watch out. I can safely tell you that Rakesh is merciless on twitter. He will figuratively speaking dissect you and float your body parts as a separate holding company on the Bombay Stock Exchange. I recently read Mr.Nandy's commandments book titled 'Twelve + 1 Commandments' and even he says under Commandment #13 that when one tweets, they should tweet like my good friend Rocky J.He invented twitter."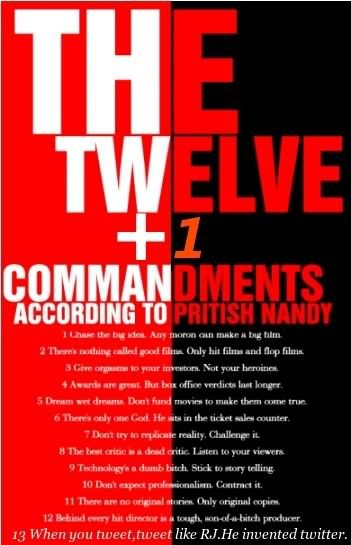 So Folks. Get Ready. World War 3 is about to begin. This Saturday, 6pm ,LIVE ON TWITTER. SIMULCAST ON CHANNEL NUMBERS: http://twitter.com/Jhunjhunwala & http://twitter.com/PritishNandy. Don't Forget To Leave Your Questions For Pritish Uncle.
IT'S ON BROTHER!